SINGAPORE THE LION CITY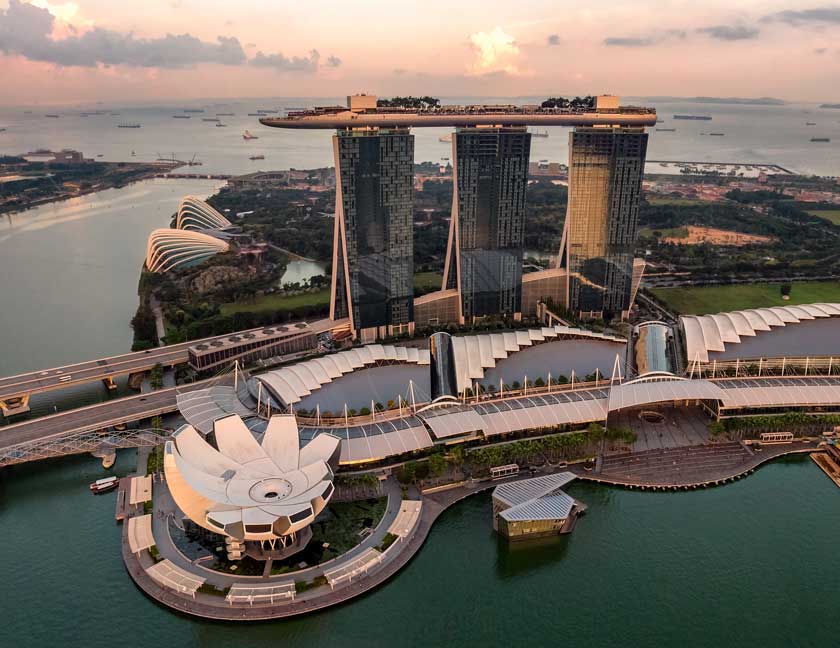 Known as the Lion city, the Garden city and the Red Dot, Singapore is one of the most popular tourist destinations in South-East Asia. Singapore, being one of the most prominent cities in the world, will provide you with a different kind of experience from the one you could expect in other Asian countries. Whether you're an insatiable foodie, a lover of the arts or an irrepressible daredevil, Singapore's endless possibilities are certain to fuel the fires of your passion. Here's a peek into what the Lion City has in store for you.
This section is your guide to Singapore; from all the best hotels to restaurants, shopping, nightlife and attractions – we've got it all!
TOP PLACES TO VISIT
Marina Bay - An architectural wonder in the heart of Singapore, this is one place that will definitely captivate you as you begin exploring the city. It is the prettiest and most desirable place to stay in Singapore. The stunning architecture of the glass-front office towers, swanky hotels and grand colonial buildings make the most iconic cityscape. Most visitors would love to stay in a bay-facing five-star hotel, but this is prized real estate so it's expensive. This tourist hotspot is also one of the major business areas of Singapore, so there's a vibrant cosmopolitan vibe all along the pristine pavements and inside the many shopping malls, subway stations, restaurants and rooftop bars – all of which can be found easily in Marina Bay. At the top of the three 55-floor towers of this 5-star hotel is the world famous SkyPark, which has an infinity swimming pool. With 360-degree views of Singapore, you can't stay the Marina Bay Sands without bringing your camera up here. This place is practically a city in and of itself. Home to the world's largest rooftop infinity pool, the Marina Bay Sands offers 2,561 hotel rooms, a 1,300,000 square-foot convention center, shops, a museum, two theaters, the world's largest atrium casino and a range of other exhibits.
Clarke Quay - is an entertainment area along the Singapore River with lots of restaurants and bars. Actually, Clarke Quay is the largest night spot in Singapore. In addition, in terms of taking photos, Clarke Quay is one of the night view spots in Singapore. There is Robertson Quay in the west and Boat Quay in the east around Clarke Quay.
Gardens by the Bay - This is a truly stunning location that must not be missed while in Singapore! The Cloud Forest showcases plant life in the tropical highlands. Featuring a 35-meter tall mountain covered with vegetation, that shrouds the world's tallest indoor waterfall! You can take a lift up to the mountaintop, explore the one-of-a-kind biodiversity and the geology maintained here. At the Flower Dome, you can enjoy a lovely walk in the temperature controlled dome, as you marvel at the changing display of plants and flowers from Mediterranean regions.
Chinatown - Singapore's historic Chinatown is a busy place, filled with a mixture of old and new shops and markets. These narrow streets are an important part of Chinatown's past. Although now we can get sight of a more modern Chinatown, the history of this place is still present everywhere, and you can still experience some of its original charm.
Sentosa - is an island resort located off the coast of Singapore. It is easily reached from Singapore and is visited by about 5 million people a year. It is a modern, top class resort facility and just full of fun attractions for the whole family.
TOP THINGS TO DO
EXPERIENCE THE EXTREME RIDES AT UNIVERSAL STUDIOS -It's the perfect getaway for adrenaline junkies, priding itself for having the world's tallest dueling roller coasters, an indoor thrill ride, a 3D Transformers experience, and a soaking white water rafting that ends in a hair-raising drop. There are also kid-friendly attractions for the young and faint-hearted like a Shrek 4D cinematic experience, a train trip through Sesame Street and the canopy flyer for an aerial view of Jurassic Park.
MEET THE MERLION AT MERLION PARK -Featuring the mythical creature of a lion with the body of a fish, Merlion Park is one of Singapore's national landmark and tourist attractions. It is visited by approximately one million visitors each year. Standing in all its glory at a height of nearly 9-metres tall, it's a must-have shot to capture in Singapore.
TAKE A SINGAPORE RIVER CRUISE BY NIGHT - Particularly atmospheric by night, when Singapore's skyline is beautifully lit up, these 40-minute cruises run every 15-20 minutes between the iconic structures of Marina Bay and the vibrant nightlife of Clarke Quay, with running commentary giving you some entertaining background history. You can hop on and off at several different locations, but your best bet is to catch the boat at the Promenade Jetty, in front of the Singapore Flyer – that way you catch a glimpse of the lit-up Gardens by the Bay.
SHOPPING AT ORCHARD ROAD - Singapore's main shopping street, particularly notable for its fashion stores. Its name is a bit of a misnomer, since there isn't an orchard in sight; instead, you are faced with gleaming malls, departments stores, and designer shops. You can spend days shopping here, sustained by the food from the malls' excellent food courts.
EXPLORE GEYLANG - Historic shophouses in Singapore's red-light district. Geylang's streets and buildings bear little resemblance to the gleaming, futuristic metropolis just a few kilometers west. Seedy by night, during the day the streets make for fascinating walking, as there's a very distinctive vibe, with much of the architecture dating back to the turn of the 20th century. When Singapore expanded westward, it drew industry to the area, and with it the immigrant populations that arrived to work in the factories. Temples, mosques and churches sprung up in Geylang's narrow streets to cater to their spiritual needs, and to date Geylang remains one of Singapore's spiritual hubs
BEST TIME TO VISIT
High Season (November through early January, June and July): Singapore doesn't have a definable high and low season, though crowds tend to be at their peak during the holidays due to the combination of winter travelers, holiday festivals and the usual business traffic. Accommodation rates are at their highest, and negotiating any kind of discount is unlikely. Winter also brings a bit more rain as it falls during the Northeast Monson season, though you won't notice a significant difference in the weather no matter what time of year you arrive. The crowds peak again in June and July during the Great Singapore Sale, with hotels and other accommodations filling to capacity. During this time, you may also experience throat and eye irritation from the smoke and haze produced from the clearing fires.
Shoulder Season mid-January through May): There really isn't what would be considered a "shoulder season" in Singapore; however, mid-January through May falls between the high and low "peaks." April in particular is a good time to be in Singapore as there are no public holidays during this month and it doesn't fall during monsoon season, though you can expect high heat and humidity year round.
Low Season(August through October, except mid-September): There is a slight break in the tourist traffic during late summer and early fall, with the exception of mid-September due to the Singapore Grand Prix. Although the Southwest Monsoon arrives around this time, it's less severe than its Northeast counterpart. Temperatures are also slightly higher than what you'll find during the rest of the year. Although there aren't noticeable differences in hotel rates, this is probably your best time to negotiate a price that's a bit more favorable.