Please wait.
loading requests...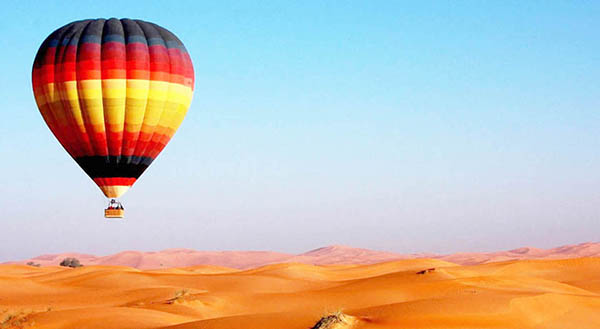 Hot Air Balloon, Falconry and Gourmet Breakfast
Imagine floating in the skies one kilometer above the Dubai desert sands on a Hot Air Balloon Ride with soaring Peregrine falcons – the world's fasted animal. Welcome to Balloon Adventures Dubai, the world's most experienced Hot Air Balloon Company. We have teamed up with the best falcon trainers in the business, to create a breath-taking world–first spectacle!
For the first time in history, you can enjoy flying with the falcons while gently floating over the pristine dunes and watching the sunrise over the Hajar Mountains. On your airborne adventure also see roaming camels, galloping gazelles and the mighty Arabian Oryx in their natural habitat. It is a breathtaking experience and no wonder that it rates so highly on the bucket lists of so many people!
Once you land, enjoy a ride in an historic open top 1950's Land Rovers to a private desert conservation reserve to an authentic Bedouin camp where you will have the chance to freshen up at clean, private bathrooms. Feast on a gourmet breakfast of caviar, smoked salmon, Eggs Benedict, fresh fruit and more.
It is the perfect thing to do in Dubai to experience the desert from above and below.
INCLUSION
Hot Air Balloon Ride
Gourmet Breakfast
A drive in a vintage 1950's Land Rover
Watching falcon flying
All taxes and service charges
TERMS AND CONDITIONS OF TRAVEL
Itineraries are correct at the time of publishing and may differ slightly to those featured in the brochure. Occasionally, our itineraries change as we make improvements based on comments from past travellers and our own research. If we are unable to utilize a product, service or activity detailed in our itinerary, a suitable alternative will be offered where possible. Itineraries may vary and/or attractions be substituted for any cause including seasonal conditions, weather extremes, natural disasters, and Conservation Reserve requirements.
Pricing is valid for travel commencing 8th of September 2017 until 31st May 2018. Rates are quoted in AED (United Arab Emirates Dirhams). Prices can be subject to change at the discretion of the Company.
Whilst we make every effort to safeguard our passengers, the Company cannot be held liable for any damage, injury, or loss of any kind caused by or resulting from any act or omission by its employees, agents or contractors. Guests should note that adventure travel involves a higher than normal risk.
All pick up and drop off locations and times published are an estimate only and are subject to change at short notice due to external factors such as road closures, traffic, adverse weather conditions and mechanical breakdown.
No child under the age of 5 years can be accepted for a Hot-air Balloon flight.

Children aged over 5 and under 12 years receive a discount on some tours, Children 12 years or older pay full adult fare
Depending on age, children on tour may be required to be seated in booster seats or other child safety accredited seating. At all times, the Company reserves the right to not accept children on tours due to safety concerns.

Our tours are active and most require a reasonable level of fitness. We do not recommend our activities to pregnant guests unless they reserve a private vehicle so that the nature of the excursion can be tamed. However, the Company will not assume any responsibility to adverse health conditions as guests participate at their own risk. Pregnant guests within their third trimester will not be accepted due to health concerns for safaris, whilst guests in their second and third trimester will not be permitted to fly in a Hot-Air Balloon.
Our tour is not recommended for guests that has had major surgery in the last 6mths, anyone that has had a broken leg/arm in the last 6mths, anyone who suffers from chronic back, neck pain or injuries
Our emphasis is on fresh food wherever possible and our meals are nutritious and varied. We cater for vegetarian and gluten intolerance – please advise at time of booking.
The Company prohibits smoking inside our tour vehicles. The Law of the UAE prohibits the possession of alcohol inside all tourist vehicles and guests discovered carrying alcohol will be required to return to their pick-up point and their own expense and no refund of the tour will be offered.
The Company has the right to refuse to carry a guest whose behavior is detrimental to the enjoyment of the group. By travelling with the Company, you agree to accept the authority of the Pilot/Guide and accept their decisions. Our staff are entitled to a safe working environment and our guests to a great experience. Any threats to safety, being physical or verbal, or inappropriate behavior may result in removal from the trip. If a Pilot/Guide requires a guest to leave the tour, no refunds will be given and that guest will be responsible for their own travel costs and arrangements from that point.
Vehicles may be equipped with dashcam technology that records high-definition sound and video. Footage may be used for legal, insurance and training purposes and may be used to verify performance related questions, queries or concerns.
Visa information not found!
Please include visa information in your inquiry.
For major countries please visit our Visa Assitance Page.
Need South Travels Help?
We would be happy to help you!
00-971-4-447-3839
info@southtravels.com