Please wait.
loading requests...
Holiday Package -
azerbaijan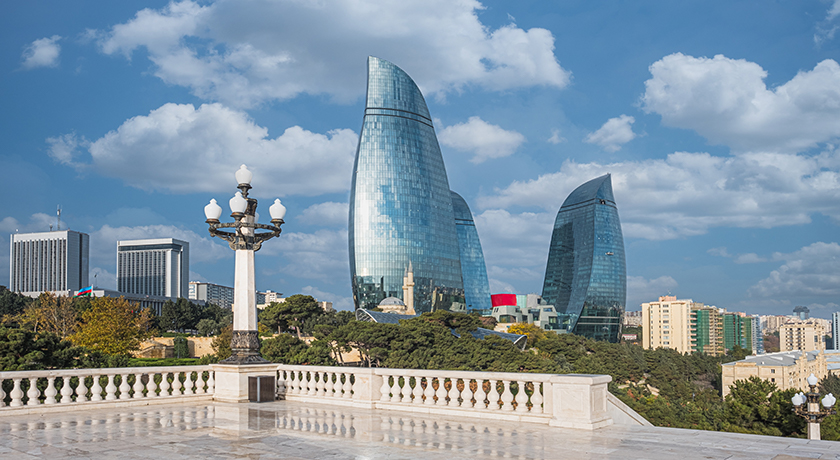 Baku is known for its jaw-dropping architecture with state of art interiors. Find out the historic relevance of Shamakhy Gates, Caravanserai, Maiden Tower, Palace of Shirvan Shah, mosques & carpet store.
Do remember to pick up souvenirs from the Old City. Have a memorable full day road trip to Gabala.
Pass by popular attractions, including the cities of Shamakhi and Ismayilli. Witness the breathtaking landscapes like the Caucasian mountains and Yeddi Gozal waterfalls. Involve yourself in an excursion to the ancient sites and castles of Absheron Peninsula, belonging to XII-XIII centuries.
Don't forget to treat your taste buds with the traditional and local food of Azerbaijan.
INCLUSIONS:
ü Return economy flights. Dubai/Baku on FZ 709, Baku/Dubai on FZ 710
ü Check-in baggage 20 kg. and 7 kg hand carry and inflight meals.
ü 3 nights' accommodation in a Standard Room at Merida Hotel Baku 4* OR similar, inclusive of daily buffet breakfast.
ü Tours and activities, as per itinerary.
ü Entry fee to monuments and attractions mentioned in the itinerary.
ü Lunch during Gabala Tour on Day 3.
ü Return airport-hotel transfers, by private coach
ü Return transfers by private coach for tours and activities, from your hotel.
ü Services of an English-speaking driver/tour guide.
ü Driver allowances and tolls.
EXCLUSIONS:
Ø Visa to Azerbaijan.
Ø Cable car in Tufandag Resort – approx. 22 AZN (approx. 50 AED) per person (to be paid locally in local currency)
Ø Tips and porterage.
Ø Meals not specified in the itinerary.
Ø Travel insurance
Day 1
Arrival in Baku and transfer to hotel in Baku.
Overnight stay at Merida Hotel Baku 4* or similar
Day 2
Breakfast at the hotel, then explore the city of Baku.
First, we'll head to the architectural marvel that is the Baku Flame Towers, then venture along the Alley of Martyrs. Enjoy the panoramic view of the city and its bay from Baku's Highland Park (also called Upland Park).
Walk down to Baku Boulevard to view the International Mugham Center.
Here you will also see Azerbaijan National Carpet Museum, designed by Austrian architect Franz Janz and looks like a rolled carpet.
Wander between the decorative stone bridges of so-called Little Venice, a small town on the water and one of the jewels of Baku. It has two large and several small islands and its gondolas are traveling in channels full of still and clean water.
Afterwards, we'll proceed to Baku's Old City to take in all the history of Icherisheher.
Visit Maiden Tower, the Palace of the Shirvanshahs, and the Multani and Bukhara Caravanserai.
Stroll down the paved streets of this ancient city and drop to some of the numerous souvenir shops where you can buy national clothes, kerchiefs, scarves, caps, dishes, and handmade carpets.
Overnight stay at Merida Hotel Baku 4* or similar
Day 3
Breakfast at the hotel.
Then explore Azerbaijan's fascinating Qabala region and discover its stunning natural beauty, remarkable history, and captivating culture.
On the way to Gabala, you will pass the so-called Russian forest, river valleys, the famous Chestnut Forest, and numerous picturesque villages.
Make a stop at an authentic bucket bazaar to buy some fruits and vegetables which are measured and sold by bucket, not by scale.
Spend time in Tufandag Mountain Resort with spectacular views of Gabala and surrounding mountains.
There are also other activities available, like hiking and horse riding at additional costs.
Enjoy lunch at a local restaurant in Gabala city.
Gabala Shooting Club is a multi-purpose and world-class shooting facility that can serve both as a recreational and entertainment center. Activities at additional costs.
Gabala region is rich in natural assets. Nohur Lake has a fabulous location with a spectacular view of the Caucasus Mountains. In winter it is gradually covered by thick ice. Yeddi Gozel (Seven Beauties) waterfall is situated near Vandam village in a mountainous area with dense forests.
Overnight stay at Merida Hotel Baku 4* or similar
Day 4
Breakfast at the hotel.
Proceed to the airport for departure.
Visas for citizens and residents of GCC countries are available upon arrival. For the ones who are traveling with GCC residency, your residence has to be valid up until 6 months.


Special Information


UAE Residence visa holders must be at least 6 months during the travel. Below 6 months, you will not be allowed to travel.
Your passport should be valid for at least 125 days from the arrival date in Baku.
All passengers except citizens of Azerbaijan and passengers younger than 18 years must have: (1) a COVID-19 vaccination certificate showing that they were fully vaccinated; OR (2) a COVID-19 recovery certificate
Please note that non-vaccinated passengers are not allowed to enter Azerbaijan. PCR certificates are no longer acceptable in Azerbaijan.

Departure Dates
First Departure: 31 March 2023
Single Room @ AED 3150 per person
Double/Twin @ AED 3075 per person
Triple Room @ AED 3050 per person
2nd Departure 14 April 2023
Single Room @ AED 2310 per person
Double/Twin @ AED 2230 per person
Triple Room @ AED 2205 per person
3rd Departure: 28 April 2023
Single Room @ AED 2200 per person
Double/Twin @ AED 2130 per person
Triple Room @ AED 2100 per person
4th Departure: 12 May 2023
Single Room @ AED 2200 per person


Double/Twin @ AED 2130 per person




Triple Room @ AED 2100 per person



5th Departure: 26 May 2023
Single Room @ AED 2200 per person


Double/Twin @ AED 2130 per person




Triple Room @ AED 2100 per person



Important Information
Once the departure date is finalized 100% charge of the packaged amount is applicable if canceled or a "no-show".
The itinerary is fixed and the only changes applicable will be due to operational logistics or force majeure circumstances.
The above offer is non-combinable with any other promotional offer or discount.
Flight operations are subject to change.
Flights are from Dubai Airport.
Terms and Conditions apply.
RECOMMENDED FOR YOU
Need South Travels Assistance?
Start your journey with our professional travel agency. Explore incredible destinations and create lasting memories with our personalised travel services.
+971 4 447 3839
info@southtravels.com