Please wait.
loading requests...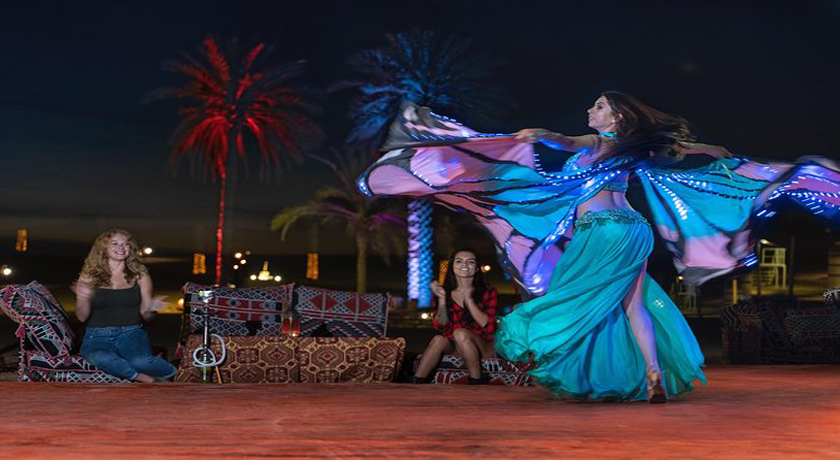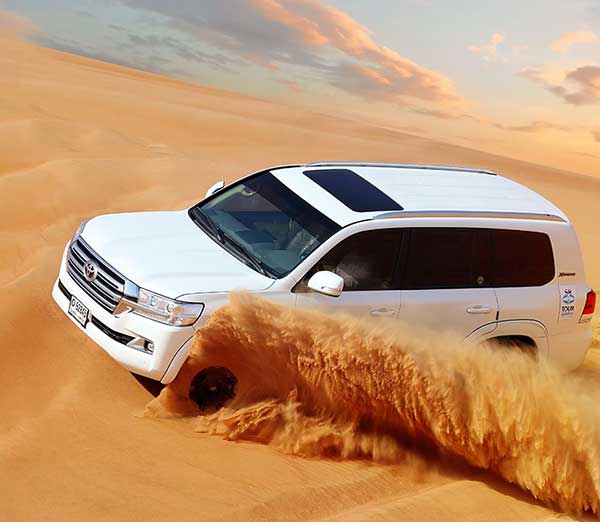 CARAVANSERAI DINNER WITH SAFARI (WITH TRANSFER - LAND CRUISER)
| | |
| --- | --- |
| Adult Rate | Child Rate |
| AED 250 | AED 205 |
| USD 69 | USD 56 |
Tour Information
Supplement of AED 50 per adult and AED 50 per child for pickup & drop off to Sharjah/Ajman.
PICKUP: 15:00Hrs
DURATION: 6-hours
Note :

Pickup depends on Areas (if transfer option selected)
The exact time of pickup with the booking confirmation
Explore Dubai's most authentic desert safari with famous cultural activities from the Arab world and feast on traditional Emirati cuisine in a Bedouin camp.
This eclectic year-round destination has a lot more to offer than just barren deserts... Find all you need, to immerse yourself in the ultimate Arabian experience, with our incredible Caravan Safaris.

Upon entry to the Caravanserai, you'll be greeted with traditional Bedouin coffee and dates, swiftly transporting you to an authentic Arabian era. Relax and take-in this bespoke affair of classic live entertainment, paired with mouthwatering cuisine for a thorough and memorable experience.

Desert safari with hotel return transfers and dinner in Caravanserai with entertainment on a sharing basis In days gone by, caravans were following established trade routes of the Orient, to bring goods from east to west, from north to south, over mountains, and through the deserts.
On these trade routes guest houses or permanent camps, called 'Caravanserai' could be found, as places to rest, take refuge, trade, exchange information, or re-supply.
Our Caravanserai, a unique desert venue located in Dubai Heritage Vision, Just 25 minutes' drive from Iconic Burj Khalifa (28 KM). Set in 37 million square feet of undulating sand dunes surrounded by indigenous regional flora and fauna in a typical desert oasis landscape. It encompasses a Traditional souk, Bedouin-style seating, a 5-star dining experience with spectacular live Arabian Entertainments, and a Falcon Show to complete your desert experience.
We offer to our guests an experience of true Arabian hospitality, heritage, and culture, in calm environment set in natural Reserve. With a variety of venues and dining options available inside the resort, arrangements can be made to Arabian Safari to Caravanserai Dinner and also suit for any type of event for daytime and evening, incentives, groups and private functions.
Caravan Safari - It is one of a kind safari experience pick-up by 4x4 Cars with 6 pax in 1 car and experience spectacular desert drive and nature guidance along with a five star dinner in Caravanserai to ample the Spectacular Arabian Retreat.
Regular days.
Return transfers are on Sharing Basis.
The tour includes the following;
Pick up from the Hotel
Drive to desert entry point
Stop at the camel farm
Dune bashing
Stop at the highest dune for Photos
Drive to Caravanserai
Caravanserai Experience
Authentic Arabian Experience
Camel Ride
Henna Painting
Arabian Souq
Falcon Display
Belly Dance Show
Tanura Dance Show
Fire Acrobat Show
Traditional Arabic Welcome
5 Star International Buffet
Drop back to the hotel
NOT INCLUDED
Alcoholic Drinks
Sandboard
Shisha
Horse Ride
Quad Bike
Buggy Ride