TULIPS AND WINDMILLS OF THE NETHERLANDS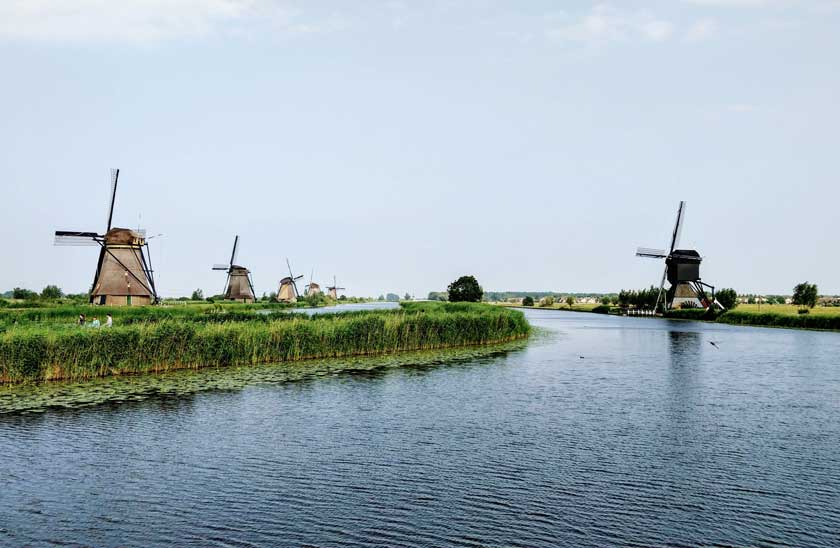 The Netherlands, it may be a small country, but it's packed with world famous icon. When you think of the destination, you probably think of tulips, windmills, and cheese. And you'll remember Vincent van Gogh, Bosch and other Dutch masters who made a huge impact in the arts and culture of Netherlands.
It is a great place to visit year round, with its glut of historic, walkable and, not least, beautiful cities with centuries old city, cathedrals as main landmarks, the amazing canals and their wharf cellars, to natural forest and rich wildlife, and of course, the beach experiences.
The country is also known for its "typically Dutch" foodstuffs taste significantly different from other specialties in other countries. Dutch coffee and chocolate is a delight and called as "soul food", and Belgian chocolate and Italian coffees are considered to be delicacies.
POPULAR PLACES TO VISIT IN NETHERLANDS
AMSTERDAM - the capital city, famous for its impressive architecture, museums and cycling bike paths. It is colloquially known as the Venice of the North. It is a city of tolerance and diversity. Canal Cruises are a popular way to see the city.
The Hague - the judicial capital of the world; the government city and home of the Royal Family. The city is also known as "The Royal City by the Sea". Exploring The Hague reveals a wealth of historic monuments, stunning palaces and museums, and has a quaint neighborhoods and hip hangouts.
ROTTERDAM - a major port city which offers a vibrant art scene, modern architecture and good nightlife. The city is full of energy and innovation, with great shopping centers, superb theme and amusement parks, accessible transportation and natures to admire.
UTRECHT -the religious center in Netherlands, a medieval city, small enough to explore on foot and large enough to enjoy world class festivals, modern architecture, trendy shops and interesting museums for days on end.
DELFT -a canal-ringed city in the western Netherlands, is known as the manufacturing base for Delftware, a hand-painted blue and white pottery. The city center retains a large number of monumental buildings, while in may streets, there are canals of which the banks are connected by typical bridges, altogether making this city a notable tourist destination.
BEST TIME TO VISIT NETHERLANDS
The Netherlands is great to visit throughout the year, with every season bringing its own particular charm.
In spring (April-June), the tulip fields are blooming – visiting Keukenhof is a must. In summer (July-September), enjoy sea, sand and sun at one of the endless beaches along the Dutch coast. Autumn (October-December) is a great time for a city trip or to discover one of the Holland's beautiful nature parks. And in winter (January-March), drink plenty of hot chocolate and visit the Christmas markets – and don't forget to go ice-skating.
TOP THINGS TO DO IN NETHERLANDS
Visit Tulip Farm- Tulip fields are found in the bulb region near the Keukenhof, in the Noordoostpolder and in the province of Noord-Holland. Its season runs from the end of March until mid-May, but the flowers are usually at its best gorgeous colors, halfway through April. More than 7 million flower bulbs bloom and the fields are filled with beautiful sights to behold.
Walk with Wooden Shoes- Wooden shoes or "clogs" have been traditional footwear for hundreds of years in Netherlands. The oldest preserved clogs were found in Rotterdam and Amsterdam dated 13th century. In 2007, Dutch fashion designers Viktor & Rolf showed their folklore inspired fall collection on the catwalks – the High-heeld clogs! Wanna try it?
The WINDMILLS of Schiedam- Keep your camera ready because there are more than a thousand windmills in the Netherlands that you can capture on film. As "Unique in its Kind", as described by Napoleon, the five biggest windmills in the world are located in the center of Schiedam, south of Holland. The windmills are over 130 feet (40m) high.
The Iconic CANALS of Amsterdam- a great symbol of Amsterdam with of great cultural and historical value, the 17th century canal ring in Amsterdam has been enlisted to the UNESCO World Heritage List. Many Dutch cities were built around canal – at Utrecht, Leiden, Leeuwarden and Amersfoort are some that has graceful canals. To fully explore, rent a small boat, a canoe or a water bike to fully enjoy while cruising.
Taste the Yellow Gold Cheese- with so much love of cheese, the Dutch build a museum dedicating to all things – cheese. The museum presents objects which illustrate the history of cheese making and farming cheese. So, gear up and ready your taste buds for a competition with the Dutch who are eating cheese about seven pounds per person per year.
Get into BICYLCLE TOUR- Netherlands is the ultimate cycling country. Whenever possible, Dutch do everything by bike. And this is the better way to immerse yourself into the culture and discover the beautiful landscapes. A bicycle takes you to places a car cannot reach. Young and old, experienced or none at all, don't worry, Netherlands is a flat country. After all, cycling is fun and healthy!
Lover of Ceramics and Porcelains, visit DELFT BLUE - produced in the city of Delft since the 17th century, earthenware was popular among rich families during the 1600-1800 who would show off their Delft Blue collections to one another. It was made from clay that was coated with a tin glaze after it was fired. The Delft blue pottery is still painted entirely by hand according to centuries-old traditions.